Genoa (Genova in Italian, Zena in local dialect) is a port in North West of Italy, and the main city of a region called Liguria, a strip of hills and mountains bordered by the Mediterranean sea. Liguria has been inhabited since very ancient times by the Ligurian, one of the oldest people of the Mediterranean area. Its old name 'Genua' comes from the Latin 'Janua', meaning door or gate, or from the name of the two headed Latin God Janus, protector of ships and coins. Genoa is an ancient settlement and port. In the Middle Ages it was an independent and powerful republic, one of the so-called Repubbliche Marinare, with Venice, Pisa, and Amalfi. City of great splendor, in the days of its highest power, it acquired the appellation of "the Grand" (La Superba). One of its most famous citizen was Christopher Columbus, whose house can be visited in the center of the town. The symbol of the town is an ancient lighthouse, called Lanterna. Its flag is St.George's cross, red over a white background, dating back to the first crusade in 1099. In the coat of arms (above the title), two griffins, legendary animals half lion half eagle, hold the St.George's cross. St. George killing the dragon appears also in the gonfalon.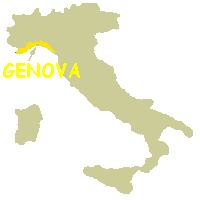 Genoa has about 700,000 inhabitants and it lies in front of the sea for a length of 30 km. Constricted between steep hills and a magnificent, rocky coast, Genoa is a 'vertical' city of many facets and contrasts. Its historical center, one of the largest preserved in Europe, is a maze of narrow lanes (called 'carugi') and tiny squares, where most buildings are several centuries old. Its large port is very active and busy, both for passenger and goods traffic. The West part is the industrial district, now suffering for hard industry crisis, while the East part is rich and residential. What to see The tour of Genoa can start from the 'Porto Antico' or Ancient Port, an exhibition area that has been completely renovated in 1992 and has become the center of social and cultural life of the city. There you can stroll on the piers, take the panoramic elevator 'Bigo' and visit the Aquarium, the largest in Europe.
Lanterna is open to the public only on weekends or through group reservation. It can be reached after a scenic promenade that runs following an ancient road and the XVII century walls that surrounded the city.
From Porto Antico, you can start the trip of the historic center, taking the main street, via San Lorenzo, heading to the Cathedral with the same name (St. Laurence). This is a very interesting Gothic church decorated with black (slate) and white (marble) stripes with a pattern typical of Genoese historic buildings. On the top of via San Lorenzo, you will reach the most important palace in Genoa, Palazzo Ducale (Duke's Palace) the house of Doge, the Governor of the Genoese Republic. On the other side of this palace, a large square with a magnificent fountain, piazza De Ferrari, is the heart of the modern town. But do not leave too soon the historic center, there is still much to see. Opposite to Palazzo Ducale, you can venture through the narrow lanes, climbing a small hill in front of the old port, and reach the very first nucleus of the old town, the hill of Sarzano with the church of Santa Maria di Castello (St. Mary of the Castle) of early Christian origin.
Among other important monuments and churchs you can admire in the historic center of Genoa, I have to mention the church of San Matteo, in the tiny square with the same name, surrounded by the Doria's palaces, all decorated in stripes of marble and slate; San Maria delle Vigne and San Siro, two churchs that are again much larger than the squares where they are located and contain interesting paintings; Palazzo San Giorgio where the old Bank of St.George was located and Palazzo Spinola, which hosts an interesting and rich gallery.
The most important street is Via Garibaldi, once called Strada Nuova, where the richest families had their mansions in XVI and XVII centuries. Most of those palaces have been preserved and are open to visit. One of this palaces is the city hall; others host museums, with paintings by famous local and Flemish artists of those centuries. And finally via Balbi, with the old University and the Royal Palace, where the Savoy Kings used to stay when they visited Genoa in XIX century.
But Genoa has more to offer than its center. The small fisherman village of Boccadasse (reachable by bus 31) is a typical and picturesque corner, pleasant to visit day and night. Take the chance to go to Nervi, either by bus (15 or 17) or by train, and stroll on the famous sea promenade on the rocky coast. Visit the park and its museums and, in late spring or summer, you will enjoy a magnificent rose garden full of rare varieties.
The surroundings of Genoa are equally and even more enjoyable. The sea coast is called Riviera (East and West) and is full of attractive small towns, tourist resorts and scenic landscapes. These include Camogli, a fishermen village, Portofino and its promontory, stretching into the sea, and the Cinque Terre, five tiny villages on a steep and luxuriant sea cost, just to mention a few. To explore more of Liguria, visit this link.
Where to eat
In Genova you can surely find exotic cooking (Chinese, Arabian, Japanese, Brazilian and Mexican), but I will not mention those places. If you travel in Italy, you will surely be interested to get a taste of some very typical and original dishes.
Below are some suggestions, for nearly every pocket

***
Antica Osteria di Vico Palla
- Vico Palla, 15 R - close to Porto Antico (via del Molo)
Tel: 010-2466575 Closed on Monday
Very typical Ligurian dishes (mainly fish, but also meat specialities) .

***
Le Cantine Squarciafico
Piazza Invrea 3r, - very close to San Lorenzo Cathedral - Tel: 010 2470823
Open daily 12,30-14,30 e 19,30-24
In the cellar of an ancient palace, a special atmosphere with good food; you pay for both, but it is worth

***
Panson
piazza delle Erbe, 5 r. - very central close to Palazzo Ducale
tel 010 2468903 close on Sunday evening and during the month of August
A restaurant with distinguished tradition, yet affordable to most, typic Genoese dishes, and expecially fish.

***
Le cantine del Pisacane
Via del Tritone 20/21R - Sturla, on the East coast, by the sea
Tel: 010 381155 Daily 19.00 - 1.00
A very good pizza, the way northern Italians like it: large and very thin. But you can also find great cheese, cold cuts, special wines and beers. And special desserts. They do not accept reservations, so you will have to wait for your turn.

***
To have a virtual taste of some familiar Genoese dishes, you are welcome to visit my recipes site (still, and forever, in progress, sorry)

Where to stay
Genoa was not a very touristic place till 10-15 years ago. The tourists preferred the two Riviere and left the capital city to industry and trade. Now things have changed completely and Genoa has become a favourite touristic destination. The hotel system has improved accordingly. My suggestion is that you take advantage of the many Bed and Breakfast that have recently open in the town and provide a good service, a cozy atmosphere and the opportunity to meet people and visit ancient houses.

A nice example is Casa Aurora, an apartment in a very ancient house which has been recently renovated; it is located right in the middle of the historic center, very close to Porto Antico and Aquarium.

***

If you still prefer an hotel, you can have a look here

***

The Youth Hostel is located at Passo Costanzi 10 n, Tel. 39-010-2422457 - up on one of the hills that surround the town, it is very panoramic and served by bus n. 40.

***
How to get to Genoa
Genoa can be reached:
* by plane to Cristoforo Colombo airport, which is located in the West part not far from the center; this airport is connected with London, Munich, Frankfurt and Paris and other European locations, but does not offer transoceanic flights.
* by train, the main railway stations are Genova Porta Principe and Genova Brignole, with plenty of connections with most Italian and continental European cities
* by car, Genova is served by numerous highways
* by ship, probably on board of one of the numerous cruise ships that harbor in the port of Genoa from and to many Mediterranean or Atlantic destinations
Moving around
Bus service is adequate, although not always excellent. The metro cover only a short distant, from Brignole railway station to the West district of Rivarolo. The ticket costs 1.5 euro and allows one to travel for 100 min, by bus, metro or train within the town borders. Ticket are not sold on buses, but should be purchased at tobacconists (you will recognized these shops by the big white T on a black sign) or newspaper stands. In the evening and on the weekends, tickets are sold also on buses, but, if purchased on board, they cost twice the regular price. If you take the train, do not forget to punch the ticket before stepping on because you risk a big fine. You can also buy 'carnet' or weekly or monthly tickets.
Boat trips from the Ancient Port to Riviera locations, like Camogli, Portofino or Cinque Terre are highly recommended, although not very cheap.