Scoglina's Pass, where three valleys meet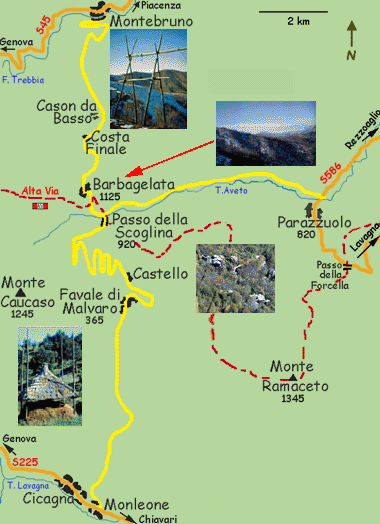 click on the thumbnails to see the pictures
Scoglina Pass is the meeting point of three valleys, Val Fontanabuona,Val Trebbia, and Val Aveto. The pass can be reached by car from the village of Cicagna in Fontanabuona valley, on state road 225. From there, take the road sp23 to Favale on the Malvaro, from where a visit to the abandoned village of Arena is recommended.
After Favale, the road climbs up, dominated on the southeast by the imposing profile of Ramaceto mountain. On the steep, terraced meadows, there are frequent stone buildings, old shelters for crop, and, close to them, the wooden pylons of steel cableways, once used to carry the heaps of hay down the slope.
At the pass, you will cross the Alta Via dei Monti Liguri ( 'High Route of Ligurian Mountains'), an important trekking trail. The SP56 road heads to the Aveto valley, while another road on the left proceeds to the Trebbia valley and reaches Barbagelata (meaning "frozen beard"), the highest village of the Genova region, built on the divide, from which one can admire a large view to the west Alps.
After another two kilometers, there is a small hamlet 'Cason do Basso' in the high Val Trebbia, from where it is possible to see the opposite divide with the Antola mountain. Then the motor road descends toward the village of Montebruno (in the Trebbia valley) and the state road 45.