From Pratomollo ( Soft Meadow )
to Giacopiane Lake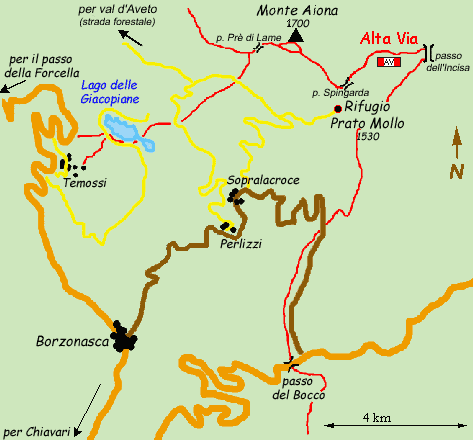 This excursion, which offers impressive views, can be undertaken by car along a small motor road (in yellow on the map), which describes a ring, or on foot following one of the several paths. Get to Borzonasca (from the town of Chiavari) and from there to Sopralacroce, then follow indications for Rifugio Monte Aiona (Refuge of Mount Aiona), best known as 'Rifugio Pratomollo'. The road climbs up steep slopes and meadows with breathtaking outlooks toward the sea. 'Pratomollo' means soft, or better damp meadow and this name derives from the fact that the spot was once a shallow lake and still turns into a pool in case of abundant rains. The Rifugio Monte Aiona (in the picture) provides restaurant service and accommodations (open only in summer; cuisine is delicious, booking is recommended, tel 0185/340103).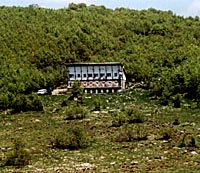 From there, take a walk up to Spingarda Pass, where you cross Alta Via dei Monti Liguri ('High Route of Ligurian Mountains', an important trekking trail), and enjoy the magnificent beech wood. Or climb to the top of Mount Aiona, one of the highest peaks in Aveto Valley.
On the way back, by car, take a left on the crossroad, towards Giacopiane Lake and proceed through the wood. When the lake is in sight, you must leave the car and go on foot, through a luxuriant and wild country. The lake is an artificial basin, for a hydroelectric plant, in an alpine environment.
Then the motor road goes down to Perlizzi and reaches the main road to Borzonasca.
click on the thumbnails to enlarge the pictures